Stop all'uso di animali nei palii e nelle feste popolari
Firme raccolte finora:

0


Firma qui e chiedi ai tuoi amici di fare altrettanto.
FIRME CARTACEE RACCOLTE FINORA (aggiornamento: 30 giugno 2015):
6.059
Al Presidente del Consiglio dei Ministri
Al Ministro della Salute
Al Ministro del Turismo
Al Sottosegretario al Ministero della Salute
I numerosi palii che ogni anno si svolgono in Italia e che prevedono l'uso di animali, prevalentemente cavalli, sono stati sempre difesi in nome di una presunta tradizione da rispettare.
In realtà,
il giro di soldi che ruota intorno a queste manifestazioni e l'altissimo numero di gravi incidenti dimostrano che esistono degli interessi che non tengono minimamente conto del benessere degli animali coinvolti.
Siamo convinti che le tradizioni debbano evolvere di pari passo con la crescita della sensibilità e che l'Italia meriti di essere considerata una nazione capace di esprimere progresso culturale:
chiediamo dunque di porre fine a questo barbaro retaggio del passato e di abolire l'uso degli animali nei palii.
Elenco delle associazioni che hanno già aderito alla campagna:
AgireOra Network
AISPA - Anglo Italian Society for the Protection of Animals
ANDA - Asociaciòn Nacional para la Defensa de los Animales
Animalisti Italiani
AnimalsAsia Italia
Arca 2005
ASOM - Associazione Salto Oltre il Muro
Cretan Animal Welfare Group
Dog Angels
Equine Welfare Alliance

Freccia 45
International Fund for Horses
IHP - Italian Horse Protection
Il Rifugio degli Asinelli ONLUS
ENPA Ente Nazionale Protezione Animali
NetAP - Network for Animal Protection
Occupy for Animals

OIPA Italia - Organizzazione Internazionale Protezione Animali


One Voice
Pro Animals Onlus
Promiseland.it
Save the Dogs and other Animals onlus
Sey - Suomen Eläinsuojeluyhdistysten liitto ry
Sloboda zvierat
The Funny Farm - Horse Rescue Association
Vier Pfoten
Viva!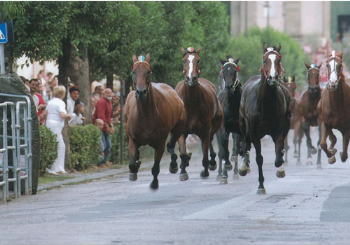 Guarda il video sulle corse cittadine a Ronciglione
Tweet
Aiutaci a portare avanti questa campagna!
Scarica la petizione